Nuvo-3000E-IGN (Intel Core i5 / i7, 5x LAN, 1x PCIe Cassette) [FANLESS]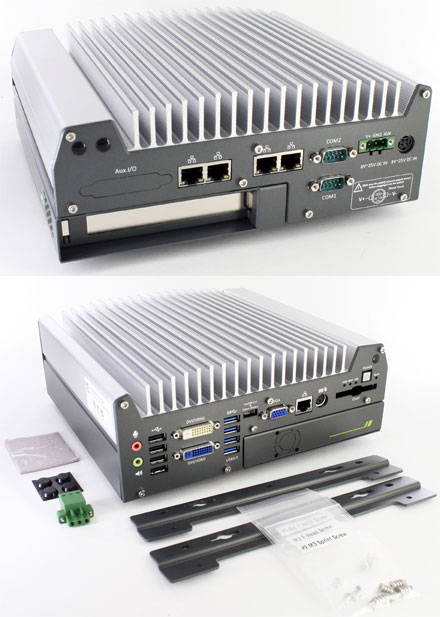 3D 360° View
-25 °C to 70 °C
5x Intel I210 Gigabit
Vehicle IGN control
1x PCI-E 8x slot
Intel® 3rd-Gen i7 Quad-core superb performance
Patent Cassette* design for PCIe/PCI add-on card expansion
(* R.O.C Patent No. M456527)
Integrated 5x GigE ports, supporting 9.5 KB jumbo frame
Rugged, -25 °C to 70 °C fanless operation
Intelligent ignition power control for vehicle applicatio
VGA/DVI/HDMI multiple display outputs
4x USB 3.0 ports + 4x USB 2.0 ports
Optional isolated DIO with Change-of-State interrupt support
Introduction
Discover a leaping of embedded controller design with Neousys Nuvo-3000 series!
Nuvo-3000 incorporates the cutting-edge processor technology and Neousy
[more]

1089.00

EUR


incl. 19% VAT, plus shipping


Availability on request
Intel® 3rd-Gen i7 Quad-core superb performance
Patent Cassette* design for PCIe/PCI add-on card expansion
(* R.O.C Patent No. M456527)
Integrated 5x GigE ports, supporting 9.5 KB jumbo frame
Rugged, -25 °C to 70 °C fanless operation
Intelligent ignition power control for vehicle applicatio
VGA/DVI/HDMI multiple display outputs
4x USB 3.0 ports + 4x USB 2.0 ports
Optional isolated DIO with Change-of-State interrupt support
Introduction
Discover a leaping of embedded controller design with Neousys Nuvo-3000 series!
Nuvo-3000 incorporates the cutting-edge processor technology and Neousys' innovative Cassettearchitecture to construct a truly reliable and versatile embedded controller. Its 3rd-Gen i7 Quad-core processor delivers tremendous boost of computing power as well as significant improvement of graphics performance. This platform also natively supports new features such as triple independent display outputs and USB 3.0.
Inheriting the heritage of proven Nuvo series, Nuvo-3000 is extremely reliable mechanically and allows -25 to 70°C operating temperature. Moreover, it comes with Neousys' patent Cassettedesign. This unique expansion Cassetteoffers PCI/PCIe slot with minimal thermal interference between system and add-on card, so that your system can always operate in expected thermal condition. Or you can use Cassetteto accommodate one 3.5" hard drive for storage expansion.
I/O functions on Nuvo-3000 are versatile. Gigabit Ethernet, USB 3.0 and triple independent display outputs are natively supported on Nuvo-3000. Its optional isolated digital I/O now supports Change-of-State interrupt to give more usability. We also introduce the function of intelligent ignition control to Nuvo-3000 to make it suitable for in-vehicle applications.
As the quad-core processor boosting performance, innovative Cassetteincreasing expandability, and ignition control bringing in-vehicle mobility, Nuvo-3000 is ready for arbitrary application requirements
Product Highlights
Quad-core Superb Performance
Nuvo-3000 supports Intel® 3rd-Gen i7 processor to offer superb computing power. Its 4-cores/8-threads architecture has 233% performance increase compared to previous i7-620M processor. In addition, the integrated Intel® HD 4000 Graphics engine also significantly advances the graphics performance.
Innovative Expansion Cassette
Providing an expansion slot inside a fanless controller is easy, but the real challenge is to deal with the heat generated by add-on card. That's why we invent our patent expansion Cassettefor Nuvo-3000. By creating an isolated chamber to accommodate add-on card separately, Nuvo-3000 can effectively minimize the thermal interference and maintain system stability. Additional thermal solution, such as customized heat-spreader, can be applied inside Cassette to realize a truly rugged fanless system with diversified add-on cards.
Intelligent Ignition Control with Adjustable On/off Delay
A common requirement for in-vehicle applications is to correlate system on/off with vehicle ignition signal and predefined delay. Nuvo-3000 features a SoC-based implementation that monitors the ignition signal and reacts to turn on/off the system according to predefined on/off delay. Its built-in algorithm supports further features such as ultra-low standby power, battery-low protection, system hard-off and etc. With intelligent ignition control, Nuvo-3000 can be deployed seamlessly for a diverse range of in-vehicle applications.
Versatile I/O functions
Nuvo-3000 has plenty of I/O functions to meet arbitrary application requirements. Its Gigabit Ethernet ports and USB 3.0 ports provide high-bandwidth data connectivity, while its triple independent display outputs provide benefits for image-related applications. There are two internal mini-PCIe slots for expanding WIFI/3G capability. We also offer the option of isolated DIO which supports Change-of-State interrupt and is very useful for industrial usage.

System Core
Processor
Intel® Core™ i7-3610QE/3610QM (2.3/3.3 GHz, 6 MB cache)
Intel® Core™ i5-3610ME (2.7/3.3 GHz, 3 MB cache)
Intel® Celeron™ 1020E (2.2 GHz, 2 MB cache)
Chipset
Intel® HM76 Platform Controller Hub
Graphics
Integrated Intel® HD Graphics 4000 Controller (i7/i5)
Integrated Intel® HD Graphics Controller (Celeron)
Memory
2x 204-pin SO-DIMM sockets,
up to 16 GB DDR3 1333/1600 MHz SDRAM
Front-panel I/O Interface
Ethernet
Up to 5x Gigabit Ethernet ports by Intel® I210
Video Port
1x DB-15 connector for analog RGB,
supporting 2048x1536 resolution
2x DVI-I connectors for DP/HDMI/DVI outputs,
supporting 2560x1600 (DP) 1920x1080
(DVI/HDMI) resolution
(***2x Video Outputs maximum)
Serial Port
2x software-programmable RS-232/422/485
(COM1 & COM2)
USB
4x USB 3.0 ports and 4x USB 2.0 ports
Isolated DIO
8x isolated digital input channels with COS interrupt
and 8x isolated digital output channels
KB/MS
1x 6-pin mini-DIN connector for PS/2 keyboard/mouse
Audio
1x mic-in and 1x speaker-out
Storage Interface
SATA HDD
1x Internal SATA port for 2.5" HDD/SSD installation
CFast
1x CFast socket
Expansion Bus
Mini PCI-E
1x internal mini PCI Express socket with USIM socket
1x internal mini PCI Express socket
PCI/PCI Express
1x PCI slot in Cassette(Nuvo-3003P/3005P)
1x PCIe x8 slot via x16 connector in Cassette
(Nuvo-3003E/3005E)
Power Supply & Ignition Control
DC Input
1x 4-pin power connector for 8~25V DC input
Ignition Control
1x 3-pin pluggable terminal block for
ignition signal input (IGN/GND/V+)
Remote Ctrl.
&
Status Output
1x 10-pin (2x5) wafer connector for
remote on/off control and status LED output
Mechanical
Dimension
240 mm (W) x 225 mm (D) x 90 mm (H)
Weight
4.4 Kg (including 2.5" HDD and DDR3 SODIMM)
Mounting
Wall-mounting (standard) or DIN-Rail mounting (optional)
Environmental
Operating Temperature
-25°C ~ 70°C */** (with i5-3610ME & Celeron 1020E)
-25°C ~ 60°C */** (with i7-3610QE)
StorageTemperature
40°C ~ 85°C
Humidity
10%~90% , non-condensing
Vibration
Operating, 5 Grms, 5-500 Hz, 3 Axes(w/ SSD, according to IEC60068-2-64)
Shock
Operating, 50 Grms, Half-sine 11 ms Duration (w/ SSD, according to IEC60068-2-27)
EMC
CE/FCC Class A, according to EN 55022 & EN 55024

MTBF
93,732 hours
Please
login
for creating product ratings.
Your rating:

Please tell us your opinion. Rate the product on a scale from 1 to 5. A value of 5 means the best possible rating. If you want you also can leave a comment.

Your ratings are honored on many ways. Your report will help other customers to better judge about the products. And you can benefit from reports other customers are giving.

In addition we credit 0.50 EUR for each given rating with comment and 1.00 EUR for each given rating with comment (more than 150 characters) on your account. The credit will be substracted automatically on your next order !

We reserve us the right to delete given comments (for example on attempts to give comments with senseless content, copying of other comments, inserting of foreign content, abusing the system for financing orders). "Fair-use-policy" does apply (as of rule of thumb you should give comments for products which you have purchased already. And your credit account only in rare cases will have 2 or even 3 digits). The credit can only be withdrawn by placing an order. It is not possible to get the credit cash or transferred in an other way.

249.00 EUR
incl. 19% VAT, plus
shipping
In Stock (4 pcs)
79.95 EUR
incl. 19% VAT, plus
shipping
Availability on request
Description
Specifications
Data sheets and downloads
Customer ratings
Related products